Whether it's to practice for that big annual pub quiz coming up, or simply because you're bored, there are plenty of valid reasons that you want to go looking for quizzes.
It's a fun way to pass the time, and user-created quizzes have the opportunity to be truly entertaining. Alternatively, you could be looking for educational or science quizzes, that's fine too.
To help relieve your boredom and reinforce your knowledge, we've ranked the top 10 best quiz websites that you can go to on your hunt for both amusing and educational internet quizzes.
Kahoot is one of the most popular quiz sites used by teachers the world over.
It allows their students to log into the game in real-time, in a lecture hall or classroom, and compete to win various quizzes on learning material.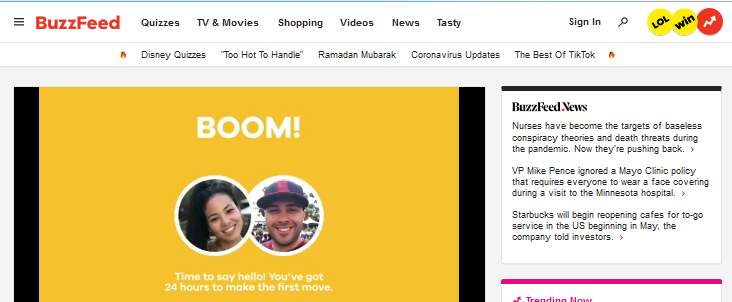 Buzzfeed has suffered some serious blows these last few years, but despite that, it remains on top of the quiz game.
Buzzfeed has quizzes on practically anything – from identifying what kind of fruit you are to what your favorite color is, all of them in interesting and amusing ways.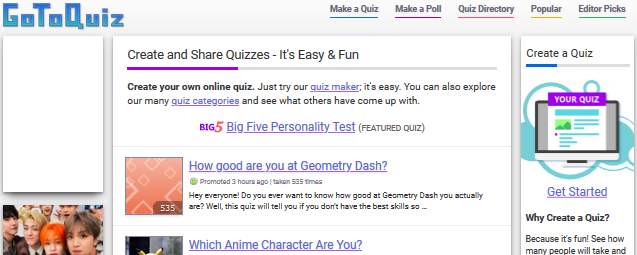 GoToQuiz is a user sourced quiz site that is constantly growing. It has quizzes on all kinds of topics from Disney princesses to American presidents.
Testmoz is a very easy to use exam and test creation site that includes automatic grading.
Testmoz is free to use and features a very user-friendly interface allowing you to get your quizzes up and running quickly and without hassle.

Beano has thousands of quizzes featuring topics like specific characters, shows, genres, and anything else you can think up.
ProProfs is an exceptional quiz tool that is aimed more towards the educator, not the one being educated.
ProProfs allows you to construct games and quizzes in a number of different languages, and impressively, features a student tracking feature so that you can monitor your pupil's progress.
Sporcle is one of the world's largest trivia quiz websites. It is extremely accessible and allows you to jump into a quiz on any number of topics at just the push of a button.
From sports to cinema to television, there are countless categories on Sporcle to keep you amused.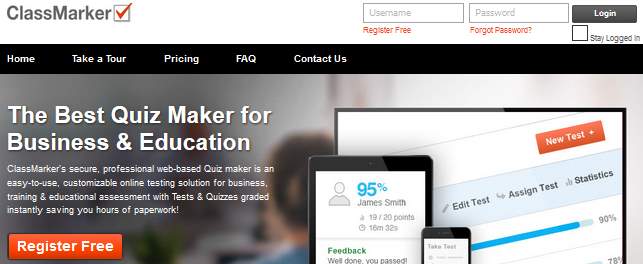 Classmarker is one of the more professional educational quiz tools out there, but don't worry; it's free of charge. You can use Classmarker to create exams and other exam-like activities for either yourself or your students.

For those not in the know, Ladbible is an incredibly successful website dedicated to serving the student market.
Ladbible has everything from funny videos to news content, including amusing quizzes that are bound to get a laugh out of you.
Braineos falls into the education camp, so if that's not what you're here for, look downwards, dear reader.
Braineos allows you to study for whatever you might want, creating flashcards, using them in games, and even competing against your friends.