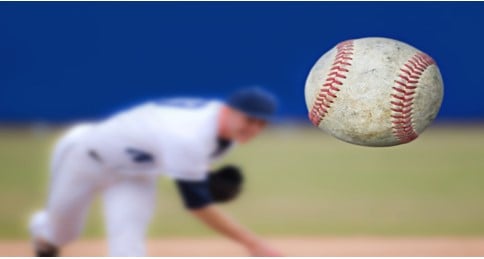 With so many sports fans around the world and not many televisions, broadcasters have begun to resort to live streaming the games on the internet in addition to regular television. This article will discuss the ten best live streaming sites for watching the sport of baseball. Disclaimer- These options are not listed in any specific order.
Looking for the best VPN services? Here are the BEST VPNs for 2022:
1. NordVPN
2. CyberGhost
3. IPVanish
This option is one of the safest and straight forward streaming services as it is run directly by the MLB. They will also consistently have the widest range of games to watch, as they cover every game of the season.
Although for all this footage they are also one of the most expensive options, so there is a catch. Overall, MLB.TV is certainly a solid and safe streaming site.
This option is a newer site and actually runs on members of the site streaming their screen for others to share. It is free, but is certainly not as reliable or as high of a quality as MLB.TV.
With the reliance of other individuals streaming their screens, you cannot count on this option and it is difficult to predict what games will be on. Although this may not be the best option, if you are looking for a free option consider mlbstreams100.com.
Now this option is not solely focused on baseball, but you can catch a game on here from time to time. This is a free app, but you must enter your cable information to log in and view the games.
So this is not entirely a free option, but if you are on the road and want to watch a game with high video quality this is certainly an option to consider.
This streaming service is one that comes up on every list, but especially for baseball. Many redditors post the links on sports subreddit pages for all to view for free.
Although the problem with reddit, is that you do not know exactly how reliable these pages are, not for the sake of viewing the game but for the safety of your computer. Nobody ever knows for sure what someone can put into an internet link, so just be aware of that when choosing this site.
While this streaming service is not dedicated solely to baseball, it certainly has games to show every now and then, but typically on Sunday evening. ESPN is a top tier streaming service with its extremely high quality videos and guaranteed device safety.
Although similar to Fox Sports Go, this app requires that you have ESPN+ which does come with a fee. However if you are a big sports fan this may be worth an investment due to their much larger list of sporting events.
Overall, WatchESPN is a solid streaming service with limited baseball and a fee but is very reliable and legal.
YouTube TV is one of the more lesser known streaming services due to its most recent beginnings. This is certainly the youngest streaming service of the ten options, but YouTube is a large company so they did invest a lot of money into this service.
Just like the other high quality streaming services, YouTube TV also requires a fee but it is a smaller price than typical cable.
Also, if you have an Apple TV or Amazon Firestick you can connect YouTube TV to your actual TV for less money than cable. In the end, YouTube TV may seem silly, but it is certainly one of the most versatile options of the ten.
Similar to YouTube TV, Hulu, a typical movie streaming service, has jumped into the world of sports to offer high quality baseball to the masses at a lower price than typical cable. There is a fee involved but they keep the cost low and do not break your budget.
It also contains an app which helps you stream the games on the go. Hulu is another extremely reliable streaming source due to their years of experience in the video streaming business. Overall, Hulu TV is a great option to stream the MLB, because "Hulu has live sports!".
8. fuboTV
fuboTV is another brand new option fresh off the press ready to be streamed on by the baseball masses. This program involves the highest quality videos with streaming in 4k!
Although with such high quality comes such high prices. So you must consider how much the importance of quality matters to you. So, if you want the highest quality possible and do not mind paying a steep price, then fuboTV is for you.
9. SlingTV
Extremely similar to most options already mentioned, this streaming service is another relatively new company looking to enter the business. They too offer MLB streaming services for a low price, and have an orange/blue logo if that is something that entices you.
To be honest, there is nothing new that SlingTV has to offer, besides that it is just another option to be aware of.
10. AT&T TV Now
This is an additional way to watch the MLB season, but is certainly not the best option. The reviews have not been too high for this new service, because of its high price, confusing plans, and underwhelming apps.
Although it does add a lot of additional variety if you want to watch something other than baseball.
Finally, now that you know all ten options it is time for a comparison of all the options. A majority of the streaming services do require a fee, but those are typically the most reliable.
Reddit is a solid option if you would like to view the games without any fee whatsoever, just be careful on what links you click. The best option of the ten would most likely be MLB.TV.
This is due to the solid reliability and credibility of the service even though it comes with a price. Enjoy watching some Major League Baseball!